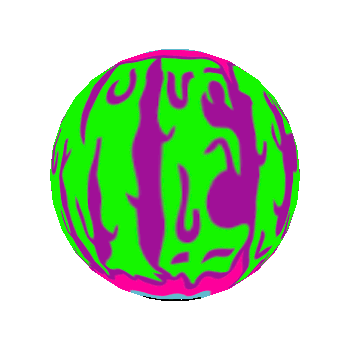 WARNING: This site and its contents are the products of a diseased mind. Proceed at your own risk...
---
NEWS

08/20/2022_ The new SLIMECOP EP is underway, with the release planned for Halloween. I've been playing around with some new plugins and tools, like this bitcrusher that makes my crappy little synths sound Extra Crunchy. It's a free download, so it fits right in with my philosophy about never paying for anything unless I have to. The amount of free VSTs, sample libraries, and software available now blows my ageing, amyloid plaque-encrusted mind. When I was making my earliest feeble attempts at electronic music as a kid, your only real options were piracy or credit card fraud. Or learning how to use an instrument. Shoulda gone with number three.

06/15/2022_ I've added a new section to the links page for music people I've collaborated with. I was doing a lot of that earlier this year, before getting tangled up in personal projects. I'll keep adding to this section as it (hopefully) grows.

04/20/2022_ It's the 23rd anniversary of the Columbine High School massacre, as well as the 17th anniversary of Super Columbine Massacre RPG! Anniversaries which mean nothing. Three years ago, I had a half-assed idea to do a 20th anniversary "tribute" album released on 04/20/2019, but this didn't come to anything more than an idle fantasy. I settled for using some clips pulled from the Rampart Range video on Hail Gay Satan and dismember the '90s? For a proper Columbine tribute, see this touching song by PMERM.

02/20/2022_ The DickWORM just released another disgusting video. This time they've ruined seafood, canned clam chowder, and spinach. Maybe it's because this one's in color, or maybe it's all the chunky, semi-liquid foodstuffs being slurped and smeared around by grown men in their 30s, but I think this one is even grosser than the last. I'm back doing vocals again as Dr. Spooge, while De Sade produced the music and created the video as an excuse to get dressed up and act like a whore.

12/19/2021_ Old PPMG friends de Sade and the Rev. Gothic Harvey made a music video for their new project, [Pre-Historic DickWORM]. It's a Silent Hill-themed porno parody of anti-vaxx/pro-Trump politics, and it will almost certainly be taken down from YouTube for simulated masturbation and spurting fluids. I'm the fucker with the salad tongs in the video.

11/25/2021_ Give thanks! ULTRAVILE is complete. Listen here or any of the usual places. Give money, etc.

10/31/2021_ Satan, it's your birthday / Happy birthday, Satan! It's been a not bad Halloween weekend. I spent most of Saturday working on art and talking to de Sade from PPMG about our shared neo-Luddite tendencies. After a quick run to the liquor store, I ordered delivery from Marco's and finished the night with a spooky movie marathon, timing it perfect so midnight came right at the part in Eraserhead where Henry cuts the gauze holding together his "baby" and punctures its exposed organs with the scissors, and all that nasty creamed corn shit comes squirting out. I started today with a hangover, normal for Sunday, and lungs full of tar from last night's cigarettes. I had leftover pizza and Halloween candy for breakfast, then set about making a new SoundCloud profile to get around their free upload limit. The first tracks I posted were the remainder of EW&LF, which I didn't have room for on the main account (that's the real reason I even bothered with that failed experiment in paid bandcamp downloads). There's track art for all eight songs on the album now, with my favorite being Half-Chub Time Machine's. The new EP should be finished in a few weeks. Until then, or until the urge for another E/N-style front page update hits me, Happy Halloweiner, fuck yourself, and go to hell.

09/21/2021_ This is the one-year anniversary of the SLIMECOP Homepage, and I wish I'd thought to do something cool to celebrate. I wish for a lot of things--and meanwhile, my Other Hand is Filled with Shit. So how about some NEWS, since that's what this section of the page is supposedly about? I'm working on some new songs for a quick n' dirty little EP, tentatively called Ultravile, which should be finished soon. I'm trying not to obsess over small details or get too ambitious. That's what I did last time, and I think the results were kind of disappointing. So for this album, I'm keeping my expectations low. You can't fail if you never try!

07/04/2021_ Independence Day, 2021...I don't remember what I did for the 4th last year, but I'm sure I just stayed home and drank. That was pretty much every day from March 2020-June '21. But today was different. Today I left home briefly, saw that everything was closed for the holiday, then came back home and drank. People in the neighborhood were setting off huge fireworks, and I made my token contribution by lighting a few M-80s and tossing them in the back yard. This holiday mostly brings to mind the smell of mosquito repellent (summer mosquitos were fucking horrible in the flat, ricegrowing part of the state I grew up in) and fireworks going off over the lake at Craighead Forest Park. One particularly memorable 4th for me was in 2007. A friend of mine was renting a house from his brother, and several other friends were living there. I hung out at that house all summer. On the 4th of July, we ended up playing a game called Vietnam, where we chased each other around the house throwing fireworks at each other. I got pinned down in the garage, so I grabbed a rusted-out 16 gauge shotgun salvaged from an old farmhouse and jammed a bunch of bottle rockets down the barrel. I couldn't figure out how to light all the fuses at once, so I poured some kind of flammable liquid on the gun and lit the whole thing on fire. I held it out in front of me while the bottle rockets went off at random, trying to aim them at my friend, who was tossing bombs into the garage which screamed as they bounced off the walls and exploded a few feet away from me. I miss being stupid...so anyway, fuck America and fuck you too.

05/02/2021_ The new album EATING WIRES & LIGHTING FIRES has just been posted. It's a half-hour of brain poison that makes you die. You can stream it from the album page as usual, and if you like it (or if you just feel like throwing your money away), you can download it on my bandcamp page for the price of a Little Caesar's Hot-N-Ready pizza.

01/24/2021_ As a weekend project, I re-recorded the dismember the '90s LP on an old VCR to give it a more authentically shitty sound. You can listen to the results here. I consider this the definitive version of the album, and since I'm the only person who will ever listen to the fucker I guess that makes me a goddamn expert.

12/24/2020_This blighted fucking year is almost at an end. I've got no major updates, but I thought I'd make one last post before 2020 is over, just to keep the front page looking current. In honor of Father Christmas, brutally martyred in the scum pits of Dinghis Khan exactly two thousand and twenty years ago tomorrow, I've got a seasonally-appropriate link from the archives: the Newgrounds Christmas Collection, as it appeared on 12/17/01. You can't really get the full effect since Flash is now seemingly unusable in any browser, at least if you're running an up-to-date version of Windows. People who are cool enough to still have a Windows 98 or XP machine working might be able to experience the magic of dead baby dress-up or Pico's School, but the rest of us can just eat shit and die I guess. This isn't really a big deal, since the Ruffle emulator makes it possible to run old Flash content in a modern browser, but anything that isn't deliberately archived is apparently just gone. That means old Web sites that made heavy use of Flash objects (including some of mine) will now be unviewable in their original state. It's the farthest thing from a tragedy in a year full of real-life horrors, but it still marks the end of an era. The Flash Age, or something... What the fuck was I talking about?

10/31/2020_Happy birthday, Satan! To celebrate the birth of our Lord Below, I've added some spooky sites to the Archived Oddities section of the links page. Now, if you'll excuse me, I need to finish hiding dirty needles and razor blades in this Halloween candy.

10/11/2020_There's now an embedded midi version of the dismember the '90s? theme that autoplays on this page. Unfortunately, it only seems to work in Internet Explorer. Chrome will let you open the file outside the browser in Windows Media Player. With Firefox, it doesn't work at all. As for Edge, Safari, or obscure browsers known only to 1337 h4x0r d00dz, I have no idea. I do know that browser incompatibility was a normal part of the '90s internet experience, so consider this a feature.

10/7/2020_ I've added an excerpt from my novel Pizza of Death to the Book page. If you have the sudden, irrational urge to give me some money, you can go to the Pizza of Death Amazon page and buy it for the low, low price of $4.99.

10/4/2020_The Music section has been updated with pages for each album, complete with summaries that are WAY TOO LONG. Some of the info might be interesting to the six people who have listened to this shit.

9/21/2020_Today marks the creation of the official SLIMECOP Web page, not counting the various SoundBandClickSpace pages that already exist. I hate those clean-looking generic templates. This one is as ugly and messy as inside my head. This is the first homepage I've fucked around with since 2003, but it's coming back to me pretty fast. Somehow I've gotten better at ripping off HTML from other sites in the meantime. Thanks to the archive, there's endless bad Web design to plunder from the relevant era (1996-2003). In the coming days, I'll continue adding features and making this a proper homepage.


---
---
You are visitor

to visit this site.




Last updated: 20 August, 2022 by Lush Rimjob.